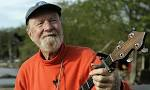 A tribute to Pete Seeger, 1919-2014
Below is a sermon I wrote and delivered in 2010. I was so sad to learn, via NPR this morning, that Pete Seeger had passed away today, January 27, 2014. This sermon puts into words the admiration I have had, throughout my life, for this musician-activist.
Pete Seeger: A Life of Singing for Social Justice
Morning Message, Saltwater Unitarian-Universalist Church, Des Moines, WA
March 14, 2010
Composed and Delivered by Joan C. Tornow, Ph.D.
I hope you're all enjoying the Pete Seeger music filling the sanctuary this morning as much as I am. It does make me nostalgic because this music has been a part of my life for as far back as I can remember. When I was little, my Mom often played Pete and the Weavers on the record player – and my three sisters and I knew almost all the songs by heart. When I was in fifth grade, Pete Seeger even came to our little town of Yellow Springs, Ohio, to do a concert. Mom piled us four kids into the old Chevy and away we went. On the way, she said excitedly, "I hope he plays 'When the Saints Go Marching In'" — her favorite.
The school auditorium was packed. Pete was wonderful, and we were all singing along with great enthusiasm. But, my sisters and I kept waiting to hear that song Mom especially wanted to hear. Toward the end of the concert, Pete asked for requests and we whispered to Mom, "Request it, request it!" But Mom was very, very shy, and we were sitting toward the back, so she would have had to speak really loud. Hope was fading that she could summon up the courage when, luckily, someone else called out that very request. "When the Saints Go Marching In." And Mom, suddenly exclaimed, "Yeah!" so loud that everyone could hear! And then Pete echoed her, "Yeah!" Everyone laughed – and we kids were so happy for her. Which is why, I think, I've remembered that moment all these years. As I look back on it now, I see it as one very personal example of Pete's extraordinary gift for getting everyone to come out of their shells. And for him, it's not just about participation in singing; it's about participation in the broadest possible sense – participation in democracy and in those causes that touch our hearts.
Pete has been like family to me – perhaps like an older brother saying, "Here's something you should pay attention to. Here's something that needs fixing. Let's sing about it and then roll up our shirt sleeves and do something about it." In my college years, Pete expanded my sense of family to include the family of man, or as we learned to say in the 60s, of humankind. And, still later, he expanded my sense of family to include not just humans, but fish and fowl, and the entire planet and its ecosystem.
Now Pete is almost 93 years old. That's why some of you younger people here today may not be too familiar with him. But, I hope you will know a bit more about this musical man – a Unitarian — when you leave here today.
At the close of my comments this morning, we'll segue to a brief video clip and a beautiful song he wrote in which he addresses his own mortality. But, first let's look at his life.
Pete was born in NY in 1919. His mother was a classical violinist, and his father a music professor. When he was old enough, Pete accompanied his father on field trips into Appalachia and other places where his father was studying folk music. Pete's mother was not into folk music and was rather put off when Pete's instrument of choice turned out not to be the violin, as she had always hoped, but – to her dismay, the banjo.
After Pete's parents divorced, Pete was sent to boarding school. He spent summers on his grandparents' farm, and loved to wander the fields and forests, developing a bond with nature that later played a huge part in his activism. Like many musicians, he was quiet and introverted. A good student, he later entered Harvard with the goal of becoming a journalist. He was by now pretty good at playing the banjo, but to please his mother, he occasionally attended a chamber music concert. One night after returning to his dorm from such a concert – classical music — he reflected in his journal about what he felt was missing in such concerts. He wrote, "The audience should be a great chorus." In these words, we can hear his early yearning for a more participatory relationship between audience and performers – an early preference for folk music.
In 1936 college students were avidly discussing what to do about the rise of Hitler. The communist party, at that time a legitimate political party in America, wanted the world to quarantine Hitler. The party also supported labor unions and worked to end race discrimination, further attracting Seeger. A person of conscience, Pete decided to join the young communist league – an affiliation which, while relatively short-lived, certainly complicated his career in years to come.
More intent on social activism than on his studies, Pete allowed his grades to fall, and had to leave Harvard. He still played the banjo only as a hobby until 1940 when he agreed to play at a NYC benefit for California migrant workers. He later said, "I was a bust. My fingers froze up on me and I forgot words." But he was stunned by the concert's surprise star that night — a relative unknown by the name of Woody Guthrie. Music historian Alan Lomax says, "You can date the renaissance of American folk song from that night. Pete knew it was his kind of music — It was a pure, genuine fervor, the kind that saves souls."
Guthrie and Pete were soon off on a road trip through Oklahoma and Texas. Together, they bummed meals and jammed with strangers — in back yards and on front porches. Inspired by Guthrie, Seeger next embarked on a solo trip westward, hitchhiking or jumping on freight trains. Playing in saloons, he further cultivated his talent for getting everyone to join in on the choruses. And he truly reveled in hearing the voices of all – the great chorus he had yearned for during that concert at Harvard.
Seeger was in deep sympathy with the labor movement, and said, "Just as every church has a choir, why not every union?" He, Guthrie, Bess Lomax, Lee Hays, and others formed the singing group, the Almanacs –becoming song leaders of American labor.
In 1941 came Pearl Harbor, and in 1942 Pete was drafted into the army. Meanwhile, he had a sweetheart –Toshi Ohta whose father was a Japanese political refugee. Pete and Toshi married during one of his furloughs. They were so poor that Toshi paid the $2 for their license. From that moment on, she served as Pete's manager and, as he says, his tower of strength. She's had to have a sense of humor to be married to Pete — with his relentless work for liberal causes. She likes to say, teasingly, "If only Peter would chase women instead of chasing causes, I'd have an excuse to leave him." I love Toshi's sense of humor. Once, when Pete was being honored, Toshi spoke first. She said, "In my job [as Pete's manager], I work 24 hours a day, seven days a week, 52 weeks a year [and] with no vacation. I [now] want to introduce my husband, Pete — you know, [that] guy who goes around the country singing for the 40-hour week!" The audience just howled.
But, meanwhile, back to the army days. Pete served overseas as a musician, entertaining wounded troops in hospitals. He also played for local children in Saipan and other places. Playing for children remained one of his favorite activities throughout his life. After his military tour, he and Toshi lived in NYC and started a family. They longed to move to the country. And, although they couldn't afford a house, they did manage to scrape up enough money to buy some land — 17 acres overlooking the Hudson River in upstate New York. Seeger checked out a library book on how to build a log cabin, and almost singlehandedly built the modest home in which they raised their children – Dan, Mika, and Tinya. For years they had no electricity or running water, yet they enjoyed, for the most part, being so close to nature.
World War II came to a close, but now we had the cold war and it was starting to heat up. One of Pete's acquaintances was Paul Robeson — a black scholar, activist, athlete, and singer – credited, among other things, with bringing African-American spirituals to a wider audience. Robeson was also an un-apologetic socialist. In 1949, he was invited to sing at the Peekskill Resort and asked Seeger to join him. The Ku Klux Klan fanned the flames of local controversy. The concert itself went smoothly, but the aftermath did not. As the Seeger family drove away together, their car, like others, was pelted with rocks by angry protestors. Son Dan, just a young child at the time, remembers his grandfather Takashi, pushing him and his sister onto the floor of the car to protect them from the flying glass. This harrowing experience deeply affected Pete. He vowed to keep his family safe but also resolved to continue peacefully expressing his values through music.
Meanwhile, he had joined a quartet called the Weavers. This talented group soon had two hits at the top of the charts –"Tzena Tzena" and "Good Night, Irene." But Seeger was uncomfortable with commercial success. So, when the Weavers were put up in fancy hotels, he would stay with friends or in cheap rooming houses.
In 1952, the proverbial hammer fell, and Seeger was called up by the House UnAmerican Activities Committee, citing his past association with the communist party and his social activism. Seeger was calm and respectful — but, he refused to sign a loyalty oath. He said he resented the implication that he was un-American just because his opinions might be different from members of the Congressional committee. He was willing to go to jail, if necessary, in support of his belief that in the United States, people can freely hold and express their own opinions — and should never be required to sign a loyalty oath.
Pete also goes down in history as the first and only person to show up at a congressional hearing with a banjo. At one point, he was grilled about having sung the song, "Wasn't That a Time," a song some Congressmen considered subversive. Seeger said he considered the song deeply patriotic, and offered to play and sing it, as evidence. The House Un-American Activities Committee was un-amused. Instead of allowing him to play, they convicted him of contempt of congress for his refusal to sign the oath. The conviction was repealed after seven years and some years later, Seeger was even awarded a Congressional Living Legend Award. Pete said of the era of blacklisting, "I really believed, and I think I was right, that in the long run this country doesn't go in for things like that."
Not long after this ordeal, the Weavers performed at Carnegie Hall – to a sell-out crowd that felt that the House Un-American Activities Committee was, in itself, un-American. Despite this affirmation by fans, Pete didn't stay with the Weavers. The group had become too commercial for him, and he decided it was time to part ways.
Although Seeger was officially vindicated, he was one of many artists harmed by what is now generally known as the McCarthy era. Folk music was extremely popular in the 60s, with musicians like Woody and Arlo Guthrie, Joan Baez, Bob Dylan, and Peter, Paul, and Mary, singing their hearts out at Hootenannies and on TV. Meanwhile, Seeger was banned from TV for 17 years for his refusal to sign that loyalty oath. But he was well-received on college campuses. He said "People are searching for roots in a world of change." Pete offered these roots – this historic connection – telling the stories and struggles of the American people through their music – folk music.
In 1957, at a civil rights event, Pete sang a relatively obscure song, "We Shall Overcome." Martin Luther King was there and liked the song. It soon rose to play a central role in the movement. Pete did not write the song, but changed the words from "we will overcome" to "we shall overcome." Why? Because when you say the word, "shall," you can't help but smile. He also added the verse, "We'll walk hand in hand." He participated in countless marches and rallies, and he and Toshi marched proudly in the famous Selma march – a perilous 3-day march in which songs provided a constant source of courage and resolve. Seeger said, "I don't think there was any movement in history that had as much singing as the civil rights movement." He added, "Music is not just a distraction. Some music helps you understand your troubles, and some music helps you do something about them."
There was a sobering event in the 70s when a Viet Nam vet met with Seeger backstage, after a concert. The former soldier had been outraged that Seeger wanted the U.S. to pull out of the war. But, during the concert, Seeger's songs had moved him. So, after the concert, the man came backstage and asked to speak with Seeger. Toshi arranged for the two to sit down together. The man said, "Mr. Seeger, I came to kill you tonight." He went on to explain that he had lost friends in the war. He was upset and confused but Pete's songs had dispelled his anger. As they sat together, Pete picked up his banjo and began singing, "Where Have All the Flowers Gone." The former soldier wept.
The Seeger family's property overlooked the Hudson River which in 1967 was horribly polluted. With help, Seeger built and launched the majestic sloop Clearwater which in turn launched a whole era of people working to clean up the Hudson. For decades now, school kids have gone out on this boat to learn about ecology firsthand. Says Pete, "The kids go back to school — and some of them have had their lives changed." The annual Clearwater Festivals have inspired river clean-ups throughout the country.
A couple of weeks ago, I heard Pete on the Tavis Smiley (radio) Show, sharing a special memory about a 1969 peace demonstration in Washington, DC. He recalled trying to get everyone to sing together, but with 500,000 that was hard. By the time the voices of those in the back reached the front, those in the front were on a different lyric. Pete decided to lead the crowd in a slow and simple song — John Lennon and Yoko Ono's, "All we are saying, is give peace a chance."
"Well," said Pete settling into the memory, "You know, Peter, Paul, and Mary jumped up on the stand and started singing it with me. Mitch Miller of Sing Along with Mitch – he jumped up and started waving his arms. After a minute or so, 10,000 people were singing along. After two or three minutes, like 100,000 were singing along. After five or six minutes, all 500,000 were singing it over and over –." All we are saying is give peace a chance. Choking up with emotion, Pete continued sharing his memory of this event: "And parents would put their children up on their shoulders so they could see, and the whole crowd like a gigantic ballet was swaying from right to left, slowly, and then back." He concluded, "It was one of the most moving experiences I've ever had in my life."
Yes, for Pete Seeger it has always been about participation. When we participate, we feel our connection to one another. And when we sing, this connection becomes palpable. Thank you, Pete, for all you have done for social justice. We'll treasure the old songs, write some new ones, and always add our voices to the chorus.
[Segue to DVD featuring Pete Seeger singing the following song, composed by him:]
To My Old Brown Earth
To my old brown earth
And to my old blue sky
I'll now give these last few molecules of "I."
And you who sing,
And you who stand nearby,
I do charge you not to cry.
Guard well our human chain,
Watch well you keep it strong,
As long as sun will shine.
And this our home,
Keep pure and sweet and green,
For now I'm yours
And you are also mine.
DVD montage continues and includes Seeger's voiceover:
"Once upon a time wasn't singing a part of everyday life – as much as talking, physical exercise, and religion? Our ancient ancestors, wherever they were in the world, sang while pounding grain, paddling canoes, or walking long journeys. Can we begin to make our lives once more all of a piece? Finding the right songs and singing them over and over is a way to start.
And when one person taps out a beat while another leads into the melody, or when three people discover a harmony they never knew existed, or a crowd joins in on a chorus as if to raise the ceiling a few feet higher, then they also know there is hope for the world."
Joan's sources for this sermon include How Can I Keep from Singing: The Ballad of Pete Seeger by David King Dunaway (Villard Books, 2008), Pete Seeger: The Power of Song, directed by Jim Brown, a PBS American Masters film (2007 Live Nation Worldwide), and The Tavis Smiley Show, PRI, February 19, 2010.